Last night G informed me, "Mrs. M (her English teacher) told us we shouldn't use 'said' in the stories we're writing," and then showed me this handout she got in class: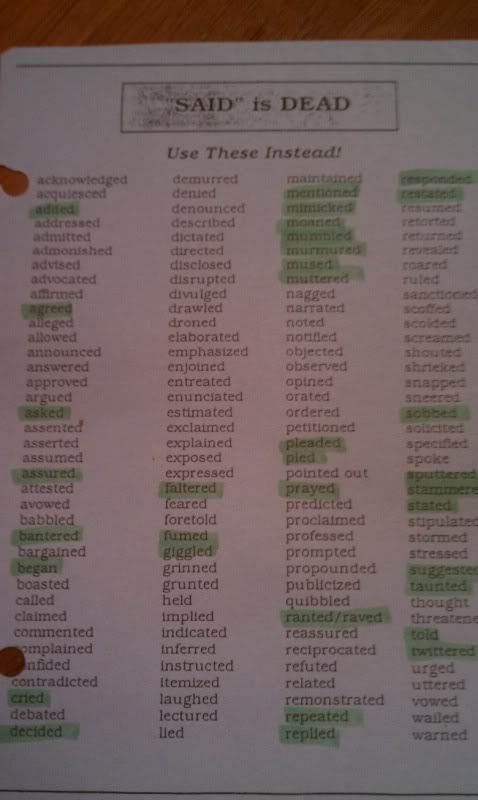 ARGH.
"Well," I said, trying to be diplomatic, "I see what Mrs. M is getting at, but I don't actually agree. It's fine to throw in a different dialogue tag here and there, for variety or emphasis or color, but 'said' is really the best one to use. It's straightforward and not distracting, and if you're writing your story and your dialogue well, you won't need anything else 90 percent of the time. Also, if every other line of dialogue ends with 'he laughed' or 'she divulged' or 'he nagged' or 'she smiled*' it's going to sound awkward and overwrought. This is my professional opinion, by the way."
"Really?" she said.
"Yes," I said. "And not only mine. Here, look at this." I grabbed the nearest book and showed her that in three pages of mostly dialogue, the only attribution other than "he/she said" was one instance of "he roared," and that one was used when it was really called for. Then for good measure, I showed her places where the author had written some of the dialogue so as not to need a "he/she said" at all, and explained how that worked. I did tell her that of course her teacher is the boss in her classroom and she has to follow these instructions at least somewhat or she'll get marked down, but not to go overboard with it.
I suppose what they're trying to do is teach the kids that there
are
other words available if they need them, but kids are literal, even in their early teens, and most of them are probably going to take this handout to mean that "said" is evil and they should
never
use it. This is why so many adults are convinced that it's wrong to write in the second person and that starting a sentence with "and" or "but" is verboten--their seventh-grade English teacher said so and they've never forgotten it. As far as I'm concerned, the only thing that's really forbidden in writing is doing it badly (she pontificated), and even that isn't true if you happen to be entering the
Bulwer-Lytton contest
. Save the droning, drawling, giggling and stammering for then.
*I have a special hate for "smiled." I used to read a decorating magazine that used it at least twice in every article with an interview--"'We love our kitchen's new look,' smiles Susan"--and it nearly drove me around the bend. Not only does it sound smarmy, it's impossible; you can say something with a smile, but you can't smile your actual speech any more than you can hammer it or swim it. Gah!